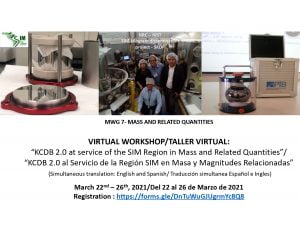 The Key Comparison Data Base (KCDB) supports the Mutual Recognition Arrangement of the International Committee for Weights and Measures (CIPM MRA), implemented in 1999. This
database contains information regarding Measurement and Calibration Capabilities (CMCs) and the results of comparisons (key, supplementary and bilateral) in physical, chemical, and biological
quantities. In 2019, the International Bureau of Weights and Measures (BIPM) launched a new KCDB platform with substantial differences from the previous platform, the KCDB 2.0. This event
aims to provide tools to the Working Group on Mass and Related Magnitudes of the InterAmerican Metrology System (SIM) on how to properly interact with the KCDB 2.0 platform.
The event was held from the 22nd to the 26th of March.
EVENT PROGRAM:
PRESENTATIONS:
1_KCDB 2.0_Introduction Generalities
---
---
---
4_KCDB 2.0_Comparison registration
---
---