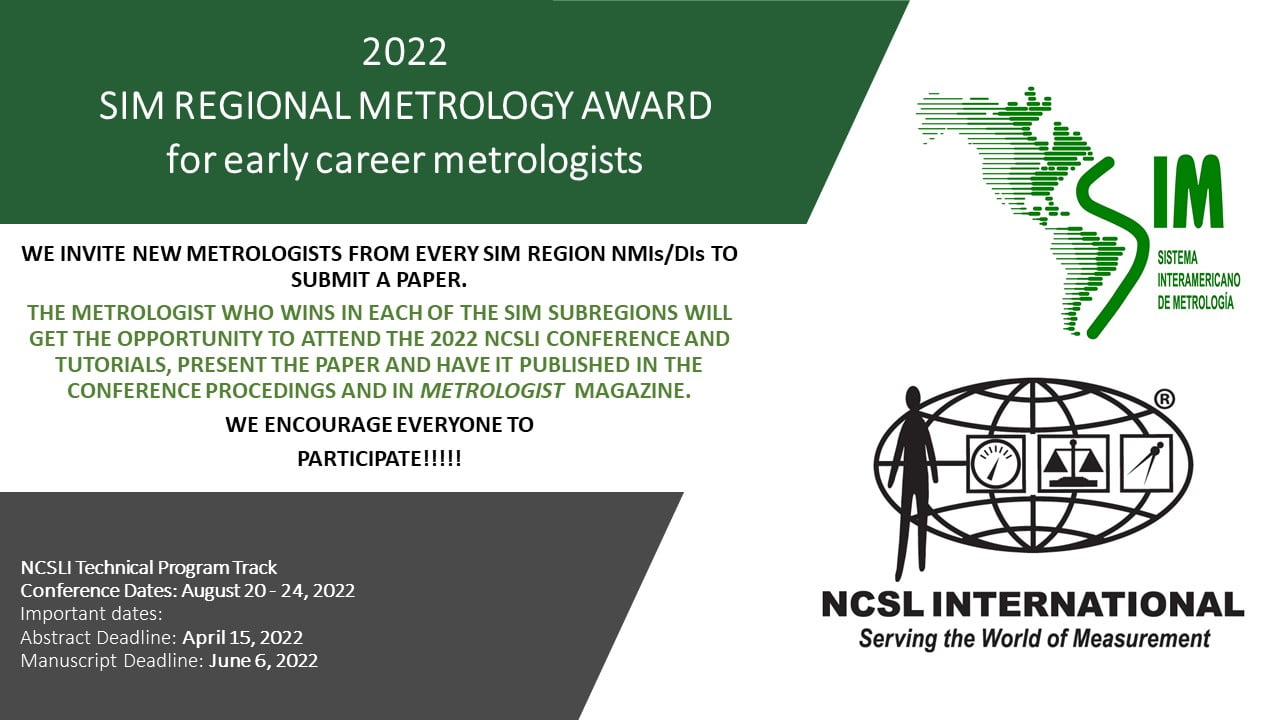 Date
Jun 06 2022
Expired!
Time
UTC time
12:00 pm - 12:00 pm
2022 SIM REGIONAL METROLOGY AWARD for early career metrologists- MANUSCRIPTS PRESENTATION
The Inter-American Metrology System, or Sistema Interamericano de Metrología (SIM), looking to the future, is positioning itself as a Regional Metrology Organization (RMO) that enables its National Measurement Institutes (NMIs) and their associated Designated Institutes (DIs) to reach their full growth objectives in meeting local demand and stakeholder needs. SIM aims to foster a taste for research and scientific thinking related to measurements at all NMIs in the region, particularly at those that are developing scientific metrology to complement their efforts more related to industrial and legal metrology.
As part of the dynamic cooperation between SIM and NCSL International, a competition of scientific papers submitted by early-career metrologists (those who have worked less than five years in the NMIs or DIs of the region) was established. Following the terms of reference (see annex I), the bests of these papers are selected to be presented at the annual conference of NCSL International in a special session dedicated to this award to promote the role of these early career metrologists in the development of SIM. Ideally, a winner and runner-up are chosen from each of the SIM regions: ANDIMET, CAMET, CARIMET, NORAMET and SURAMET, with the prize for the winners being the opportunity to present their work at the conference with all expenses paid, and have their papers published in the Conference proceedings and in METROLOGIST magazine.
The first competition was in 2020, and the SIM evaluation committee was integrated by the Chairman of the Technical Committee (TC) (Salvador Echeverría- CENAM), the TC Deputy (Lisa Karam- NIST), the Project Coordinator (Javier Arias- CENAMEP), the Professional Development Coordinator (Rodrigo Costa Félix- INMETRO) and the Executive Secretary (Claudia Santo)]. 2 winners and 1 second place paper were selected out of 12 submissions to present their papers in a special session during 2020 NCSLI Conference that was finally held virtually.
The 2020 winning works and their authors are the following:
Region
NMI/DI
Country
Authors
Paper title
Metrology Area
NORAMET
CENAM – First place
México
Iván Espinosa (co-authors: Nulutagua Octavio Icasio Hernández)
Design and build of a step gauge of nests for performance evaluation of Laser Trackers
MR
NORAMET
CENAM –Second place
México
Jose Luis Rivera Ramírez (co-authors: Luis Omar Becerra Santiago)
Development of a gas density measurement system with an oscillation-type density meter
ANDIMET
INM

First place

Colombia
Yulieth Fernanda Gutiérrez (co-authors: León David Alonso Plazas Fernández Mayckol Jesid Morales Castro)
Dimensional characterization and Effective Area Estimation of the 35mm piston/cylinder assembly – PG0806
L
A new call in 2021 was published on the SIM website and publicized to all SIM Members through the official Member representatives and the SIM Technical Committee. Unfortunately, participation rather low, most probably due to difficulties in physically accessing the laboratories due to the pandemic. It was hoped that all participants new metrologists could be mentored by more experienced metrologists within their NMIs or even by experts from other NMIs; this, too, was hampered by the pandemic.
Five abstracts were received in 2021 and evaluated by the Committee (same Committee than in the previous edition), and three of them were selected as winners. Recommendations were sent to all the authors, with suggestions on how to improve them papers either for this or future presentations.
The 2021 winning works and their authors are the following:
| | | | | | |
| --- | --- | --- | --- | --- | --- |
| Region | NMI/DI | Country | Authors | Paper title | Metrology Area |
| NORAMET | CENAM | México | Alexis A. García González (co-authors: Dr. Héctor A. Castillo Matadamas) | Industrial Solar Simulator Calibrator based on special solar module | PR |
| SURAMET | INMETRO | Brazil | Pedro O. C. Machado Neto (co-authors: Paulo C.R. Brandão, Juan C.M. Sánchez, Lúnia C.A. Lima, Carlos E.C. Galhardo) | Uncertainty Evaluation of the Electrical Transient Rise Time | EM |
| ANDIMET | INM | Colombia | Claudia Fernanda Rodríguez (co-authors: Alexander Gutiérrez Guevara, Daniel Eduardo Sotelo, Liz Catherine Hernández) | First measurement service applied to event dating for reliable business transactions: metrology for digital transformation using Colombian legal time | TF |
This year a new edition of the Award will be held and winning authors from 2020, 2021 and 2022 will present their papers to the widest possible audience during a special session of this year´s NCSL International Conference. These recorded presentations and the associated papers will be published in the Conference proceedings and in METROLOGIST magazine.
For these early-career metrologists and their institutions, this competition presents a unique opportunity to raise their visibility in the metrology community, reach out to potential customers, and to increase their technical confidence. SIM and the NCSL International intend to replicate this experience in the future to continue motivating new metrologists in the region.
SIM-NCSL International REGIONAL EARLY CAREER METROLOGIST PAPER AWARD 2022:

TERMS OF REFERENCE
SCOPE:
To sponsor a technical paper competition for early career metrologists in each of the SIM subregions.
The competition is aimed at:
encouraging early career professionals in the field of metrology to introduce their scientific work to the metrology community at-large.
introducing one's technical work to colleagues of other NMIs within the SIM Region
publishing the papers in the NCSL International conference proceedings and Metrologist Worldwide News, supporting, and encouraging early career metrologists who contribute to the development of their NMI.
This competition is coordinated by the SIM Professional Development Coordinator with support by SIM Secretariat. Subregional coordinators will cooperate with the communication of the competition within their regions promoting the participation of the NMIs.
AWARDS:
The winners of the first-place paper from each sub-region will have the opportunity to participate at the NCSL International Workshop & Symposium 2022 if this is their intention and this is supported by SIM Council considering COVID pandemic situation.
The NCSL International 2022 Workshop & Symposium will take place August 20-24, 2022. In the case in which in-person participation is agreed, expenses (air fare, lodging, per diem and Conference inscription) will be covered though a NIST grant to NCSL International.
First place papers will also be published in the 2022 Conference proceedings.
The winners of the second-place paper from each SIM subregion will be invited to prepare a poster for presentation at NCSL International, however no travel support will be provided for participation.
DEFINITION:
Early Career Metrologists, in the context of this competition, are people who have been employed as a metrologist by a SIM NMI/ DI member of SIM, from no earlier than 2016.
As there are various forms of such employment, the NMI or DI representative shall declare that the applicant is an early career professional and that the NMI support his/her application.
PARTICIPATION:
Early Career Metrologists who want to participate in the competition must send an abstract of their paper (about 500 WORDS) related to any field of metrology, and a copy of their CV to SIM Professional Development Coordinator (PDC), Rodrigo Costa-Félix (mail: [email protected]), copying the SIM Secretariat
(mail: [email protected]).
All submitted abstracts will be sent to a "Review Panel" who will evaluate the abstracts and SIM will communicate to the participants the abstract acceptance trough the SIM PDC and the SIM Executive Secretary.
For those abstracts that are accepted by the "Review Panel," full manuscripts should be submitted to the PDC and the SIM Executive Secretary for final evaluation. These manuscripts must not be longer than 4000 words and should include:
statement of the problem addressed in the general form and its connection with important scientific or practical task.
analysis of the ways of solving the problem.
determination of the way of solving the general problem.
presentation of the main research material with explanation of the obtained results
conclusions
For more information check the Document "Criteria for early career metrologist competition manuscripts"
REVIEW PANEL:
The "Review Panel" is made up of the SIM Professional Development Coordinator (Rodrigo Costa Felix), SIM Technical Committee Chair (Lucas Di Lillo) and vice chair (Marina Gertsvolf), SIM Project Coordinator (Javier Arias) and SIM executive secretary (Claudia Santo). The panel can ask an expert from the Technical Committee to assist in the evaluation.
Manuscripts will be evaluated by the Review Panel to select up to two papers from each of the SIM sub-regions. A first and second place winners are expected to be selected from each sub-region.
DEADLINES:
Abstract´s presentation: April 15, 2022
Abstract´s selection: May 6, 2022
Submission of manuscripts: June 6, 2022
Review Panel selection of best papers: June 20, 2022
CONTACT PERSON FOR SIM
Claudia Santo, SIM Executive Secretary
Criteria for early career metrologist Award manuscripts
Set the paper out as a scientific work: introduction (including literature support), materials/methods, results, discussion, and conclusion (plus references and any acknowledgements).
Include the identified need for metrology and the objective of the scientific work (how the need has been addressed)
Include the metrological area to be considered (e.g., length, mass, time, chemistry, ionizing radiation, quality, legal metrology, etc.)
Describe the methods/procedures and instrumentation used as relevant.
Describe sources of uncertainties, full uncertainty budget, and aspects of measurement traceability as relevant.
Clearly describe what data is presented in any tables/figures
Discuss the implications of the results (what they mean).
Present a clear conclusion supported by the results.
We encourage collaboration within the NMI or with other experienced metrologists in order to improve the quality of the manuscript.
Please check instructions from NCSL International for the manuscript and abstract:
Deadline for submitting the manuscripts: 6/05/2022
Manuscripts should be sent to: [email protected] , [email protected]