June 7, 2023
Representatives from the organizations PAQI (Pan African Quality Infrastructure) and QICA (Quality Infrastructure Council of the Americas) held their first exchange and collaboration meeting on June 7, 2023. The meeting, facilitated and moderated by experts from PTB, was attended by the presidents and secretaries of various regional standardization, accreditation, and metrology bodies from both regions.
During the meeting, after a formal introduction of both the Pan-American and Pan-African organizations, a brainstorming session took place on topics of common interest. Some notable areas of discussion included strategies for creating awareness among stakeholders and decision makers, sharing best practices for implementation within the organizations' secretariats, promoting quality infrastructure to government authorities, organizing joint workshops to exchange best practices and experiences in specific areas such as digital transformation, circular economy, global recognition of conformity assessment results, and strategic plans on common issues.
This initial encounter between the regional organizations sets the stage for fruitful collaboration and exchange in the future.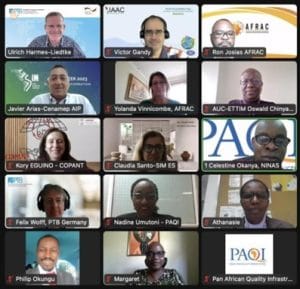 The Pan-African Quality Infrastructure PAQI was created to strengthen the regional and global competitiveness of Africa's goods and services and contribute towards an improved quality of life for the African people through prudent use of standards, measurements, conformity assessment and accreditation. It was officially inaugurated on 30th August 2013 by the Director for Trade and Industry, African Union Commission, where by members comprising of, the African Accreditation Cooperation (AFRAC), the Intra- Africa Metrology System (AFRIMETS), the African Electro technical Standardisation Commission (AFSEC) and the African Organisation for Standardisation (ARSO) have formalized their cooperation as members of the Pan African Quality Infrastructure (PAQI) by signing a Memorandum of Understanding.
The Quality Infrastructure Council of the Americas (QICA), comprises the three independent regional organizations involved in quality infrastructure in America: The Pan American Standards Commission (COPANT), the Inter-American Metrology System (SIM) and the Inter-American Accreditation Cooperation (IAAC). QICA is a platform to develop joint projects, information sharing, and cross-functional training and development that, by acting collaboratively, exceeds the abilities of any single organization acting alone.