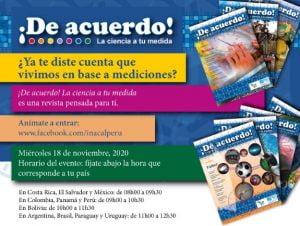 Within the framework of SIM Week, the magazine "¡De acuerdo! – Science made to your measure" will be presented and the eighth edition that covers the theme of Sustainable Development announced.
Through this magazine, the National Metrology Institutes of the Americas intend to bring scientific topics closer to the youth in a pleasant way to promote in them a taste for science.
The presentation event will take place virtually, on November 18th 2020, from 14:00 UTC to 15:30 UTC.
Participants of the SIM General Assembly will get a special invitation to the event.
A simultaneous translation Spanish-English will be provided to the SIM GA participants, if necessary.
In addition, an open streaming via Facebook in Spanish will be provided to the general public. Please, join and share the following link for the event: